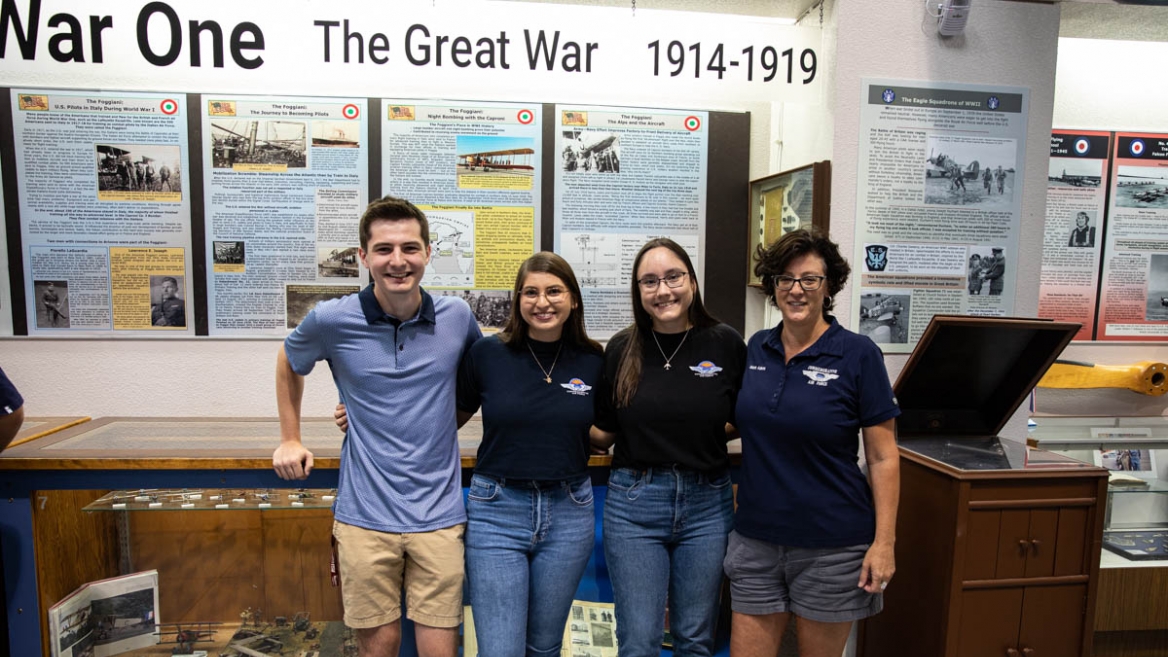 How students brought a World War I exhibit to life
When Arizona State University student Marilyn Bersewicz was approached about doing an internship with the Commemorative Air Force Museum in Mesa, Arizona, she thought it would be cool to learn more about World War II.
Then she was told she actually would be working on a World War I project.
"I went, 'Wow, I know almost nothing about that,'" said Bersewicz, a graduate student in aviation management and human factors.
She does now.
Bersewicz was one of five ASU students who served as interns on a project about the Foggiani, 500 American cadets sent to Italy in 1917 and after training for a year were commissioned as pilots who flew combat for Italy in 1918.
The students' work, which lasted more than a year and involved everything from research to the visual look of the four-panel exhibit, was unveiled on Sept. 17 as a new permanent exhibit at the museum, and one man couldn't have been prouder.
"We were first kind of concerned about having younger interns take on a program from World War I," museum Director Dennis Nelson said. "The sexy war was World War II. They like to get into that stuff. We weren't sure how they would respond to something not very well known and (that) happened a long time ago. There's not a lot of stuff about World War I out there.
"But these guys and girls got into the weeds like you wouldn't believe. I can't comment enough on the quality of work and enthusiasm the ASU students provided."
If you can't recall anything about the Foggiani, well, you're not alone. Bobbie Carleton, historian and media and community relations director at the museum, said their contributions in the war were so obscure that as aviation experts, "we were scratching our heads saying, 'We had never heard of this.'"
The cadets were transported across the Atlantic Ocean because Italy was losing the Battle of Caporetto and needed help. While most of the cadets wound up serving with the American Expeditionary Force in France, about 100 stayed in country and flew combat missions with the Italians.
Fast forward to more than 100 years later. The Commemorative Air Force Museum receives an artifact donation, including a photo album, from an Arizona resident — the granddaughter of Lawrence Joseph, a Foggiani airmen who took more than 300 photos at the Foggia camp in 1917 and 1918.
An internship program had been set up around the same time with ASU's College of Integrative Sciences and Arts, and the five students, each of whom received three class credits for 20 hours of work per week, digitized the photos and then went about trying to find out more about the pilots.
"It was kind of like a scavenger hunt," said Karolina Marek, a graduate student in aviation management and human factors.
Fortunately, Joseph had given the students a head start. He had written down the names of the airmen he flew with and who was in the photos he took. His granddaughter then translated Joseph's writing into English on a typewriter, and included a list and description of the photos.
"That was a great starting point for us," Bersewicz said.
Still, this was World War I. Official records were scarce. So how to go about the search?
Like everything else these days: Do a Google search.
Instead of having to trudge to the library and go through microfiche, the students found old newspapers that had been archived on the internet. They'd put a name in the search bar and more often than not, something relevant would pop up.
"I found that they had a get-together in the 1930s that New York City held for them," said Aidan Lynch, a senior majoring in history. "I got 60 names there. There was a guy in the unit who wrote a biography that got us a ton of names. And there was a barbecue cookout one of the guys attended that got us names. It was sort of like an investigation."
That get-together in New York? Well, the Foggiani turned out to have a pretty good political connection. Its de facto commander was Fiorello LaGuardia, who grew up in Arizona and, yes, became the mayor of New York in 1934.
As they continued their research, the students found themselves being transported back in time.
"You felt like you were there," Bersewicz said. "Like you were with them on the missions."
Video of ASU students develop WWI exhibit at CAF in Mesa, Arizona: Arizona State University (ASU)
Video by Ken Fagan/ASU News
Once the research was completed, it was time to map out the exhibit. Carleton said Cori Williams, an undergraduate in ASU's aeronautical management technology program, was instrumental in creating a storyline that flowed naturally from one panel to the other.
"He did a terrific job of actually doing the drafting of a conceptual storyline that brought out certain interesting and salient historical facts, such as the role of LaGuardia, the role of Lawrence Joseph and various characters in history they encountered in their nearly two years in Italy," Carleton said.
On Saturday, as dozens of people walked through the doors of the museum, Bersewicz, Marek and Lynch stood in the center of the building.
Their work was done.
They had given the Foggiani the recognition they deserved.
"My favorite professor at ASU recommended I do this just because it was an option for me and I wasn't really sure what classes I wanted to take that semester," Lynch said. "She said it would be a ton of fun. And it ended up being exactly that."
Top photo: ASU students Aidan Lynch, Marilyn Beresewicz and Karolina Marek, along with ASU Lecturer Valerie Adams, stand in front of the WWI exhibit the students researched and developed on the Foggiani U.S. pilots who trained in Italy at the Commemorative Air Force Museum in Mesa, Arizona, on Saturday, Sept. 17. Photo by Ken Fagan/ASU News